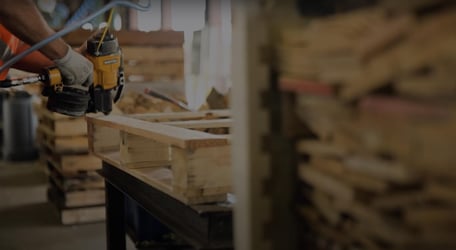 48forty Solutions Pallet Facility
Pallets in Portland, Oregon
503-285-4142
Let's Simplify
National capabilities, local know-how.
48forty Solutions' Portland area facility opened on March 21, 2005. Located just off the Columbia River in the Riverside Industrial area, west of I-5, the facility has access to convenient shipping lanes that allow for quick and easy service within 300 miles in any direction. This facility services the majority of Oregon and Washington State, including Portland, Salem, Eugene, Seattle and the Tri-Cities. Additionally, since 48forty is a national company, we have the resources of our surrounding facilities to accommodate almost any need – odd size pallets, immediate pallet needs (new or recycled), surplus pallet retrieval or disposal, custom wood crating and more.
Neighboring 48forty facilities
All neighboring facilities can assist in meeting our greater Portland area customers' needs.
Available resources
48forty's Portland facility has the resources available to provide you with excellent customer service and is well-equipped to serve virtually any need, whether your company plans to buy or sell pallets in the area.
Private, 48forty-operated transportation fleet
9 tractors working round the clock
170 trailers available for delivery
Capacity to process in excess of 2 million pallets annually
54,000 sq. ft. manufacturing facility, located on 7 acres
24/7 delivery capability
One contact sales professional to handle all questions or needs
Location Details
Address
10400 North Lombard
Portland, OR 97203
Phone
503-285-4142
Fax
503-285-6212