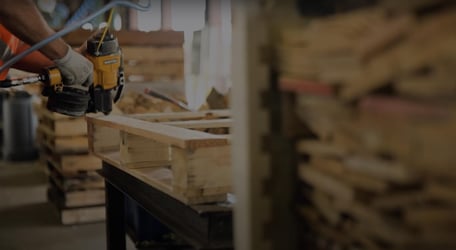 48forty Solutions Pallet Facility
Pallets in Houston, Texas
713-554-6972
Let's Simplify
National capabilities, local know-how.
48forty Solutions has two facilities in Houston, Texas. Our facility on Blaffer Street has been serving the area since 2011. Strategically located near exit 22 off I-610, 48forty has access to convenient shipping lanes that allow easy service within 100 miles in any direction. And, since 48forty is a national company, we have the resources of our surrounding facilities to accommodate almost any need – odd size pallets, immediate pallet needs (new and recycled), pallet surplus retrieval or disposal, and more.
Neighboring 48forty facilities
Dallas, TX
San Antonio, TX
Lubbock, TX
Amarillo, TX
Hammond, LA
All neighboring facilities can assist in meeting our greater Houston area customers' needs.
Available resources
48forty's Houston facility has the resources available to provide you with excellent customer service and is well-equipped to serve virtually any need, whether your company plans to buy or sell pallets in the area.
10 tractors working to serve you
230 trailers available for delivery or drop-and-hook
Capacity to process in excess of 2.6 million pallets annually
40,120 sq. ft. manufacturing facility
24/7 delivery capability
One contact sales professional to handle all questions or needs
Location Details
Address
4847 Blaffer Street
Houston, TX 77026
Phone
713-554-6972