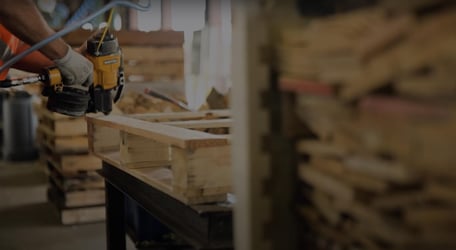 48forty Solutions Pallet Facility
Pallets in Denver, Colorado
303-289-1234
Let's Simplify
National capabilities, local know-how.
48forty Solutions' Henderson, Colorado facility has been serving the Denver area since 1993. Strategically located off I-76 and 96th Avenue, 48forty has access to convenient shipping lanes that allow easy service within 800 miles in any direction. And, since 48forty is a national company, we have the resources of our surrounding facilities to accommodate almost any need – odd size pallets, immediate pallet needs, surplus pallet retrieval and more.
Neighboring 48forty facilities
Kansas City, MO
Salt Lake City, UT
All neighboring facilities can assist in meeting our greater Henderson area customers' needs.
Available resources
48forty's Henderson facility has the resources available to provide you with excellent customer service and is well-equipped to serve virtually any need, whether your company plans to buy or sell pallets in the area.
8 tractors working to serve you
133 trailers available for delivery or drop-and-hook
Purchased over $5 million in pallets last year
Access to more than 3 million surplus pallets
Services the entire Rocky Mountain Region
7.5 acres of outside storage
One contact sales professional to handle all questions or needs
Location Details
Address
8221 E. 96th Ave., Unit C
Henderson, CO 80640
Phone
303-289-1234
Fax
303-289-1215