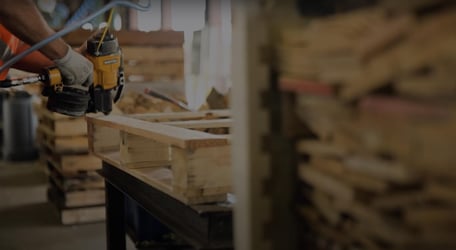 48forty Solutions Pallet Facility
Pallets in Albany, New York
518-861-5410
Let's Simplify
National capabilities, local know-how.
In December of 2017, 48forty Solutions relocated from the Northeastern Industrial Park in Guilderland, New York to the Glenville Industrial Park in Glenville, New York. Our new location is a larger, more modern facility and located closer to the thruway for easy access to our customers. And, since 48forty is a national company, we have the resources to accommodate almost any need – odd size pallets, immediate pallet needs, surplus pallet retrieval and/or disposal, custom wood crating and more.
Available resources
48forty's Glenville facility has the resources available to provide you with excellent customer service and is well-equipped to serve virtually any need, whether your company plans to buy or sell pallets in the area.
56,000 sq. ft. building that holds inventory
4 acres of outside storage
24/7 delivery capability
One contact sales professional to handle all questions or needs
7 tractors
100+ trailers
1 million pallets annual volume
Location Details
Address
201 A Street
Glenville, NY 12302
Phone
518-861-5410