A National Pallet Company - 48forty Solutions
Why An Asset-Based Supplier
Making a choice of a pallet supplier shouldn't mean that you give up sustainability goals. In a survey, over 90% of company CEOs have indicated that a major focus of their company's success involves sustainability. Asset-based pallet suppliers brings both aspects to the table while remaining cost-effective through the use of recycled and reissued options.
There has been a gradual shift towards recycled pallet manufacturing as it continues to grow by around 3% year-over-year. As this trend continues, asset-based providers such as 48forty lead the way with centralized functions including ownership of warehouses, trucks, distribution centers, pallets, and the facilities responsible for the recycling.
Just as each business is unique, the demands for pallets often crest into the need for customized solutions. As an asset-based pallet manufacturer and supplier, 48forty offers the opportunity to work closely with customers for tailor-made options that fit their requirements. Our professional team focuses on quality for both common and custom specifications so that we become a one-stop-shop for all pallet needs.
"

48forty Solutions is truly

Pallet Management Made Simple™ "
National Pallet Company & Pallet Supplier
We have entered an era where business is facing more competition than ever while being required to streamline costs and create ecological solutions. As the largest full service pallet company and pallet supplier in the country,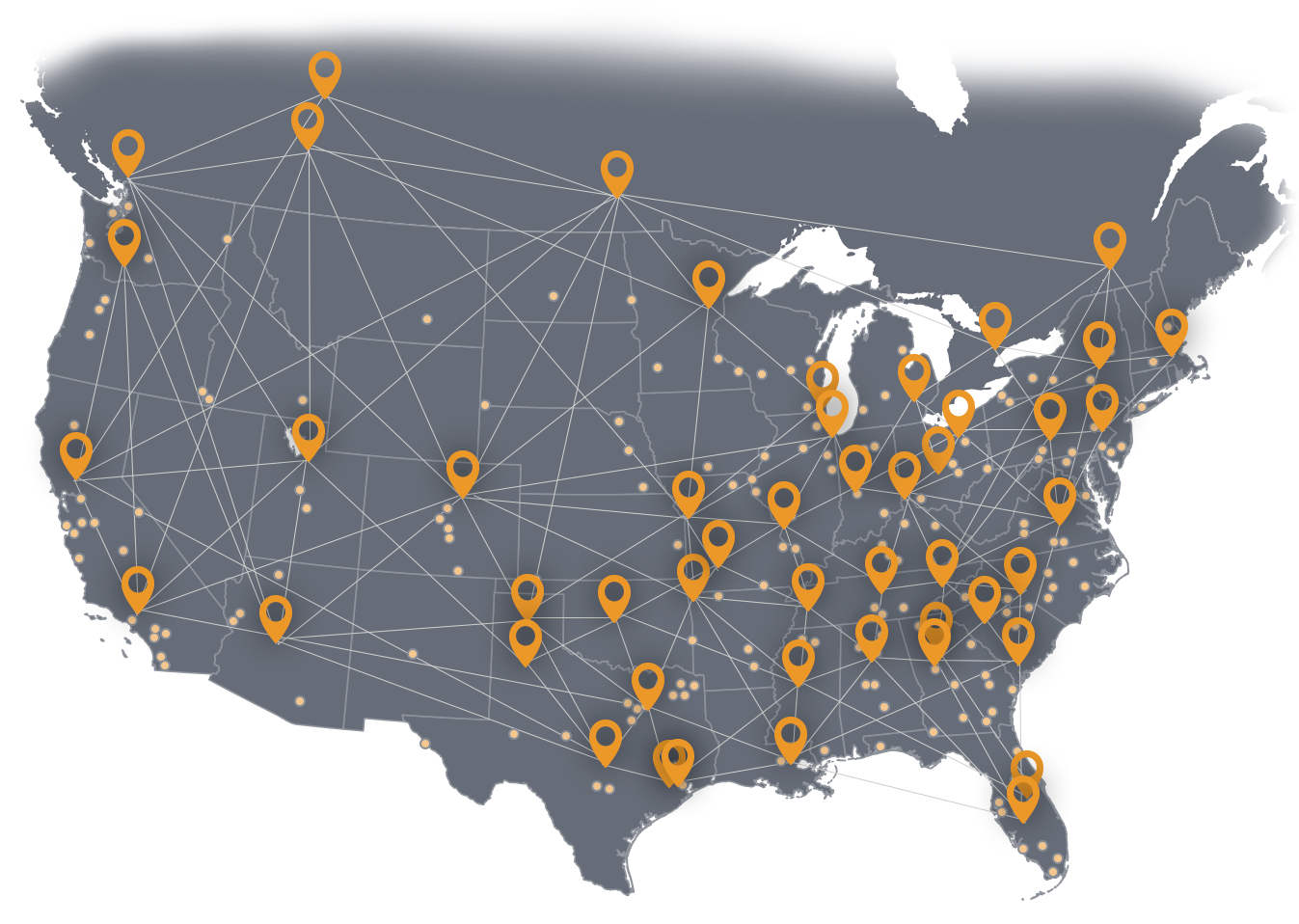 48forty has combined our roots as one of the first U.S. pallet companies to go "green" with the technology that brings cost savings and choices to our customers. Pallets are part of the foundation of the transport of materials, products, and inventory, and it only makes sense to work with a national pallet company that is fast, efficient, and eco-friendly. Over 500 million pallets are created in the U.S. every year and around 90% of these are made from wood. It's important to focus on a company that offers options of repair, recycle, and reissue to reduce an overall carbon footprint. With over 25 years of experience in the industry 48forty is full service experts in the art and science of wood pallets.
However, making a choice for a pallet company goes beyond just knowing that they have wood pallet options, it means that they need to be available upon demand with locations that can offer expediency and customize to the often unique client requirements. As a nation in transition, we are facing changes within the shipping and transport industry that weren't previously considered and this entails having a national pallet company that can bring flexibility to supply demands.
Pallets as a Priority
The Department of Homeland Security has deemed the manufacturing of pallets as "Essential Critical Infrastructure." Pallets are considered to be essential not only to each state's solid wood producers, but are critical for the movement of our nation's essential goods. As businesses examine and streamline operations there is a process of simplifying to move to a single provider that not only handles all of the pallet supply needs, but has a focus on new, custom, recycled, and on-site services for end-to-end pallet solutions.
Scoring Big to Save the Environment
Every aspect of business today is being examined for its carbon footprint and all companies are looking for ways that they can improve sustainability to be good stewards for the planet. This is especially true when dealing with manufacturers of wood products, who must prove a conscientious effort in not only reusing and recycling, but making the smart choices that actually save trees. 48forty is the largest pallet recycler in the country and we take pride in recycling over 110 million pallets each year.
However we take "going green" to a whole new level and we are proud to be named by Inbound Logistics magazine as "Green Supply Chain Partner for 2020." Our green initiative efforts have included repurposing materials and minimizing waste through our pallet repair and remanufacturing programs. When a pallet has finally reached end of life it is carefully disassembled, including removal of metal and nails. All wood is converted to landscape mulch and pellets for fireplaces, stoves or biofuel. All metals are taken to metal recyclers so that they can repurpose the nails.
Our green report card efforts are equivalent to:
695,338 passenger car removed from the road
10,866,290 trees saved
2,279,270 pounds lumber diverted from landfills
3,301,324 metric tons of CO2 emissions avoided
Our pallet recycling program includes purchasing pallets and we have developed a calculator so that anyone that is considering recycling pallets can quantify their impact on the environment.
Not All Pallets are the Same
It goes without saying that the challenge of shipping inventory is as unique as the inventory itself. Not all boxes, crates, or items are shaped the same and weights vary to such an extent that warehouse managers and the truckers that transport the shipments are in a constant state of concern. Cost-effective customization is part of doing safe business and demands a team that works with the customer to ensure end-to-end strength, size, and durability. A single phone call should offer peace of mind knowing that from drop off to retrieval, pallets are not only of the highest quality, but will do the job that they are designed for.
Size Does Matter
When it comes to the topic of pallets the key term is "GMA" = Grocery Manufacturers Association. This is the group that sets the standards for any product involved in transporting goods in the United States. According to GMA, the standard pallet dimensions has been established as 48"x40". Using this measurement as a guidelines all distributors, retailers and manufacturers have an industry standard that enables them to use ballets from a variety of manufacturers. However, there are other GMAs that are acceptable, and they are adjusted for the load: 48"x48" and 42"x42". Weight of a standard pallet is around 37 lbs. and the average standard pallet is 6" tall. To give you an idea of size versus load, the 48x40 pallet holds around 4,600 lbs. of weight.
Even with the GMA standards set, there is no established universal standards for pallet dimensions. Companies around the world use pallets of all different sizes depending upon the load and the purpose.
The Language of Pallets
A "stringer" is the board that is between the deck boards, running the length of the board, and holds the pallet up. The pallet board length is measured by the stringer. Deck boards are the boards on both the bottom and the top of the stringers that are placed perpendicular to the stringers. The deck boards are 3 ¼" wide, 5/16" thick and 40" long.


Quality Is the Name of the Game
All companies are budget conscious, but cutting costs through lesser quality pallets carries a high risk of breakage and loss of product. An analogy might be in using poor quality materials to create the foundation of a building. It wouldn't take long for the home or business to suffer. Pallets need to be constructed well and made with the highest quality materials for durability.
Pallets made at 48forty adhere to the highest quality management systems to make sure that our customers receive consistent quality pallets. We accomplish routine compliance tests and risk assessments that includes safety and security. Our standard operating procedures are based on good manufacturing process with site-level KPIs. We select the best grades of wood and are the largest buyer of recycled white wood pallets as well as the largest recycler of pallets in the country.
Location-Location-Location
Although this is an overused trope, it is one that is appropriate for expediency for pallet needs. Eliminating hassles is the key to success and a nationwide pallet supply company can offer the type of pallets that you want, when you want them. With over 45 company-owned and operated facilities and 180 affiliates, 48forty also offers savings with our private fleet so that our customers avoid the costly third-party transportation fees. Our fleet of 4,500 trailers and nearing 300 power units ensure that our customers are serviced coast-to-coast with end-to-end pallet solutions that cover supply to retrieval, on-site services, reverse logistics, and retail services. A client needs to feel secure that they can talk to a live customer service rep to discuss their particular situations and know that they will have their pallet order done and delivered fast and cost-effectively.
Plastic versus Wood Pallets
In the last number of years there has been a dialog as to which pallets are better: plastic or wood. Companies are more focused on eco-friendly options than ever, and the only choice for ecological excellence is wood. A ScienceDaily article listed a peer-reviewed study done by an unbiased group at Penn State that was published by Journal of Industrial Ecology indicating:
"Molded plastic pallets, typically, have a much longer life cycle than wooden pallets because plastic pallets are usually not broken or damaged and normally can travel more than 200 round trips before being taken out of service." "Plastic pallets are made of sturdy, hardened material and are built to last longer. But they are typically derived from petroleum or natural gas products, which greatly increases their carbon footprint."
Pallets made from wood are also easier to accommodate for customization at a moment's notice. This makes the choice of wood pallets a no-brainer in today's ever-changing business landscape. Using wood pallets is a choice that brings sustainability and responsibility efforts.
Technology for Design and Customers Ease
Online review, ordering, and paperless invoicing is another successful requirement for going green. This equates to a 24/7 availability for access to give clients the options they need, even during off business hours. 48forty has created PalTrax™, an online account management tool that makes it easy to place orders, make pickup requests, and invoice review extremely easy. This easy mobile app fuses every part of the pallet process. Streamlining access and delivery is part of quality assurance and brings innovations in technology that saves valuable time.
48forty adds an extra step of accountability so that every client knows that they are receiving an exact order. Each pallet that is loaded on a 48forty trailer is graded, counted, and digitally documented in real time. Using PalTrax™ a customer can access their account within 24 hours and view the details by trailer, date and time; and exact quantity, type, and pallet grade.
Our back doc pallet management app removes the headache of tracking pallets at distributions centers for both incoming and outgoing quantities, allowing the customer to see real time the pallets that enter and leave their doc. The ingenious app tracks by vendor, type (recycled, new, pooled), confirms that the pallets meet the spec required by the customer, and load, date, and time. All of the data is captured, aggregated and available for at-a-glance review and confirmation reports.
An added benefit for those considering recycling pallets is our 48forty calculator that will give you an idea of the environmental impact of your personal environmental impact in recycling those pallets.
Service Excellence
48forty acts as a partner for our clients, with responsiveness to attention and details that are a must whether a single or multiple locations or the complex needs of the supply chains. We understand the intricacies involved in ever changing pallet volumes and customize the solution that works for each customer. Many companies may say that they have great customer service, but 48forty has over 2700 happy clients that look to us as a trusted partner. 25 years of experience with serious and committed approach to customer excellence has made 48forty the best in full service among national pallet companies and suppliers.
We are one of the few nationwide pallet manufacturers that offer online access and a mobile app that gives real time information for all aspects of a pallet order. We combine technology with true customer service with a team of professionals that become intricately familiar with the business of our clients so that we meet and exceed expectations.